A Softub® Spa is the durable, lightweight, revolutionary hot tub that meets your need for true portability and energy efficiency.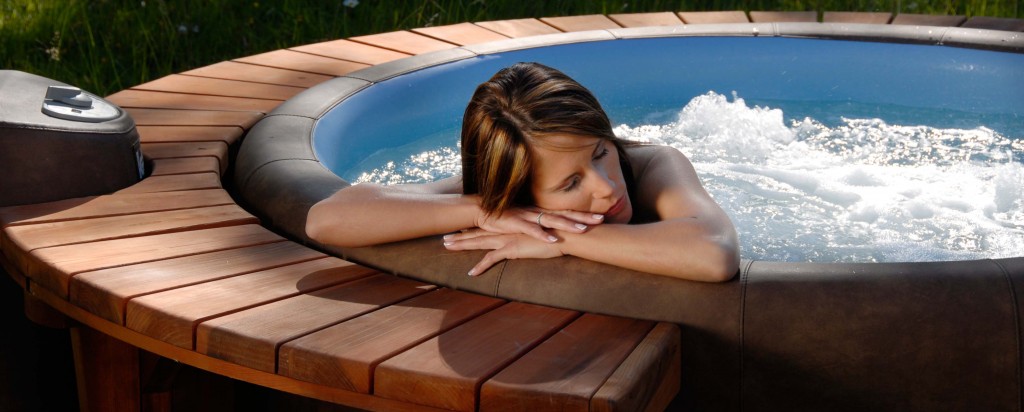 Softub, Inc. has ushered in a new era in relaxation – a go anywhere spa that is efficient and affordable, with features and technological advances that make it comfortable, safe and inexpensive to operate. Inside Softub Spas deceptively simple appearance is a long list of technological innovations, including its unique soft-but-remarkably durable wall construction and its ingenious heat recovery system that keeps water at an ideal temperature using only your standard 115V outlet! Softub Spas are easy to set up, just follow our 1-2-3 process!
Today, Softub, Inc. enjoys record-breaking growth across the United States and around the world. (World-class athletes at the Olympic Games have enjoyed its therapeutic benefits.) It has been a recipient of the Consumers Digest Best Buy Award for the 140 as well as the 220 model, and Softub Inc. has appeared in Inc. 500 Magazine three years in a row! As the hot tub value innovator, Softub, Inc. is on a roll. Check out our FAQ's and join the Softub Spa movement. We have one ready for you today!


The California Energy Commission has documented that Softub is the most energy efficient hot tub gallon for gallon.   Softub can be kept at 104°F and used every day, for 20 minutes, at an average cost of only $10 a month.
Softub has achieved this position due to unique the product's technological attributes.  This includes the  combination of the energy efficient HydroMate® System, the SmartChip™ Power Monitoring System, the high density insulated cover and tub. 
. Softub is also renewable and recyclable, making the product truly sustainable compared to any other brand.  In addition, Softub, Inc. is a green manufacturing facility, where no harmful VOC levels are present 
| | |
| --- | --- |
|   | All of our domestic tubs (120 volt, 60 Hz) are built to meet or exceed the UL-1563: Electric Spas, Equipment Assemblies and Associated Equipment standard, which is the applicable standard for our products. We are certified by ETL and our control numbers are 59987 for our Valencia, CA manufacturing facility and 3037126 for our New Bedford, MA facility.  |
|   | All of our export tubs (240 volt, 50 Hz) are built to meet or exceed all of the applicable standards for the European Union. For this reason, we apply the CE certification label, which is a self-certification.  |
|    | All of our export tubs (240 volt, 50 Hz) are built to meet or exceed the requirements of the CB scheme in accordance with the IEC standards, the applicable EMC standards and the GS standards of EN 60335-1:91 + 1:94 + A11:95 + A1:96 + A12:96, EN 60355-2-60:97, DIN EN 292-2:91 + A1:95, EN 27779:91, EN 50366:2003 +A1:2006 & DIN EN ISO 12100-2:2004. We are certified by Nemko and our report number is 79992.  |
|    | All of our tubs are also manufactured in accordance with ANSI/NSPI-6 1999: American National Standard for Portable Spas. Additionally, we also test our suction systems to ANSI/APSP -7: American National Standard for Suction Entrapment Avoidance in Swimming Pools, Wading Pools, Spas, Hot Tubs and Catch Basins. We meet or exceed the requirements of the standard.    |
|          | All of our covers meet or exceed ASTM F 1346-91: Standard Performance Specification for Safety Covers and Labeling Requirements for all Covers for Swimming Pools, Spas and Hot Tubs.  |
Green, Greener, Greenest
Softub® Is The Most Energy Efficient Hot Tub, Gallon For Gallon.*
The Softub Eco-Advantage Includes:
| | |
| --- | --- |
| | California Energy Commision Registered. |
| | Lower Energy Bills – Plugs Into Any Standard 120V Outlet. |
| | The Energy Efficient HydroMate System. |
| | Patented AquaSense Ozone Water Sanitation System. |
| | The SmartChip Power Monitoring System. |
| | Sealed, High Density Insulated Cover. |
| | Manufactured in a Green Facility – No Harmful VOC** levels. |
* LESS THAN $10 PER MONTH! Softub hot tubs are remarkably inexpensive to operate. The calculations is based upon California Energy Commission protocol, using a 220 Softub every day for 20 minutes, with jets on. The water temperature was maintained at 102* F at all times, with an outdoor ambient temperature at 60*F or lower. Using the national average cost
**VOC – Volitile Organic Compound
2008 Softub, Inc. softub and HydroMate are registered trademarks and SmartChip and AquaSense are trademarks of Softub, Inc.
13495 Gregg Street, Poway, California, 92064