Sfotub Models and Features
So, you're considering a Softub® Spa! For 20 years, Softub, Inc. has heard happy owners describe our unique hot tub as the world's most comfortable, most affordable, most portable, most energy-efficient, and lightweight hot tub.
Softub Spas are available in three different models, designed to meet your specific needs. The Softub 140 model is designed for 1-2 people and provides maximum enjoyment in a minimum amount of space. Our Softub 220 is perfect for 1-4 people and provides wonderful, cushioned comfort. For the ultimate in full-sized cushioned luxury, try our most popular model, the Softub 300+, complete with Therapy Seat and designed for up to 6 people.
For more information, give us a call 972-800-9946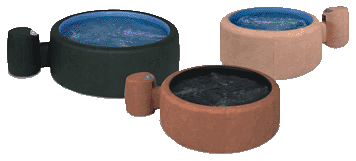 Softub color options
| | | | | | |
| --- | --- | --- | --- | --- | --- |
| | | | | | |
| Almond | Sapphire | Camel | Forest | Mocha | Port |